Puerto Vallarta is known for its spectacular views, but what most first-time visitors may not know is that you don't have to be out and about in the city to get them. While the nearest pristine beach or restaurant may require a bit of walking, you can actually get great ocean views and panoramic views of the countryside - all you need to do is to pick the right neighborhood. And best of all, you don't need to be a local to know where these spots are.
So where should you stay in Puerto Vallarta? This will really depend on your accommodations but some areas around the city are more picturesque and accessible than others. These 5 neighborhoods - South Zone, Zona Romantica, Downtown Puerto Vallarta, The Hotel Zone, and Marina Vallarta - are popular neighborhoods to start booking your stays if you want incredible views and great service.
Neighborhoods To Stay In Puerto Vallarta
Puerto Vallarta may not be as large compared to places like Mexico City, but it's still big enough to have distinct areas where you can choose to book your accommodations. But aside from exclusive neighborhoods (which are usually only allowed to locals or are extravagantly expensive), there are 5 areas around the city where you can consider settling into:
1) The Hotel Zone
North of downtown and south of the Marina Vallarta, the Hotel Zone is perhaps one of the best places to start looking for accommodations. Many of the resorts and hotels along this area are right next to or even on the beach, which gives you beautiful views of Banderas Bay and the Pacific Ocean.
The Hotel Zone is also extremely varied in its accommodation options - you can easily find a 3-star hotel close to luxury and budget hotels. However, keep in mind that its location to several key attractions in the city like the Malecon Boardwalk (site of many shops and international restaurants) and its proximity to the city center mean that there's going to be a lot of other tourists here that you'll be booking with.
But if you've ever wanted easy access to the areas in the city with the best international and Mexican Cuisine or staying in all-inclusive hotels or all-inclusive resorts that can pamper your every need, then the Hotel Zone is a great neighborhood for you to start looking for accommodation.
2) South Zone
On the other hand, the South Zone contains some of the best views of the natural wildlife in Puerto Vallarta. If you're looking for a suite that overlooks both ocean and trees, the South Zone hotels and resorts may be just the accommodations you're looking for. Some of these properties also have private pools or a shared pool, since they're right next to the coastal road.
The South Zone is also a great way to feel like you're staying on your own private beach while you're in Puerto Vallarta since many of the higher-end resorts and hotels are located along this strip. It's easy to access via taxis because of the nearby coastal road, and you can get to other nearby places like Mismaloya or attractions like the Los Arcos Marine Park.
While all the quiet does come with a heftier price tag, the on-site restaurants, wellness suites, outdoor pools, and family-friendly resort accommodations make staying in this area a hundred percent worth it.
3) Downtown Puerto Vallarta
If you're looking for the closest experience possible to living in Puerto Vallarta like a local, going Downtown is your best bet. Beaches like Playa Camarones are easily accessible from this side of town, but they're less likely to be crowded as more people flock to other beaches. However, it's also far from isolated, only being 20 minutes from the airport and a few minutes from the boardwalk along Banderas Bay.
Downtown is also full of different restaurants, shops, and other places to check out, especially during the night. Clubs and bars dot the area regularly, and you can always count on a good drink being poured somewhere within a couple of blocks of wherever you are in this neighborhood. Most budget hotels are also in this area, making it great for travelers on a budget.
The only possible downside is that you're not very likely to find luxury accommodations here - though the ones that are already here are still good enough for tourists to stay. But if you're looking for something like an infinity pool next to your room, you might want to choose a different neighborhood to check out.
4) Zona Romantica
The Zona Romantica (or Romantic Zone) is one of the best examples of Puerto Vallarta's historical culture, buildings, and food, as it's the preserved old district of the city. Cobblestone streets and abundant foliage make this a very small and intimate area, perfect for those who want to stay on the quieter side of Puerto Vallarta without having to go too far.
Don't expect to see glimpses of cruise ships on the horizon or sweeping panoramas of the landscape too often here - but this is more than made up by the dense concentration of dining options, shops, and other accommodations that you can pick from. If you've ever wanted to stay in a neighborhood where every restaurant has something new for you every day, the Romantic Zone is the place where you should go.
The hotels and hostels in this zone also range from budget-friendly to slightly-business class - nothing too luxurious here because of the small area, but that only adds to the charming atmosphere of the entire neighborhood. It's definitely one of those areas in the city where it's best experienced on foot, as it's close to both the pier and the Malecon boardwalk.
5) Marina Vallarta
The Marina Vallarta is perhaps the most urbanized area of Puerto Vallarta, with many condominiums, private homes, shops, and even golf courses dotting the area. If you don't want accommodations that are too close to the beach or the local wildlife, the Marina's a perfect slice of cosmopolitan living that still manages to be uniquely charming on its own.
Given that it's close to many of the residential areas of Puerto Vallarta, don't expect this place to be as noisy or as vibrant as the Downtown or Hotel Zone - but that doesn't mean that there are things to do and sights to see in the area. Many traditional Mexican restaurants call the Marina home, and the common areas in this district are quiet on most days, which are perfect if you just want to chill out for a while.
Marina Vallarta is fairly close to the Downtown Zone, which means that you have a perfect selection of shops and dining options to easily enjoy - so long as you don't mind the few minutes of walking that you'll have to do to get there. However, most if not all of the hostels and hotels in this area have a pool of their own, so you don't have to worry too much about getting into the water if the beach isn't really your scene.
Villas In Puerto Vallarta
The neighborhoods above are some of the places where you can find hotels, hostels, and resorts aplenty - but what if you want to settle somewhere a little more private? Villas are a great answer to this question: privately maintained, usually located in prime areas, and have facilities like heated pools and private pools, they're a great alternative to when you don't feel like settling in a hotel - and can be a far more intimate experience with Puerto Vallarta.
Some villas that you can book include:
1) Villa Veranda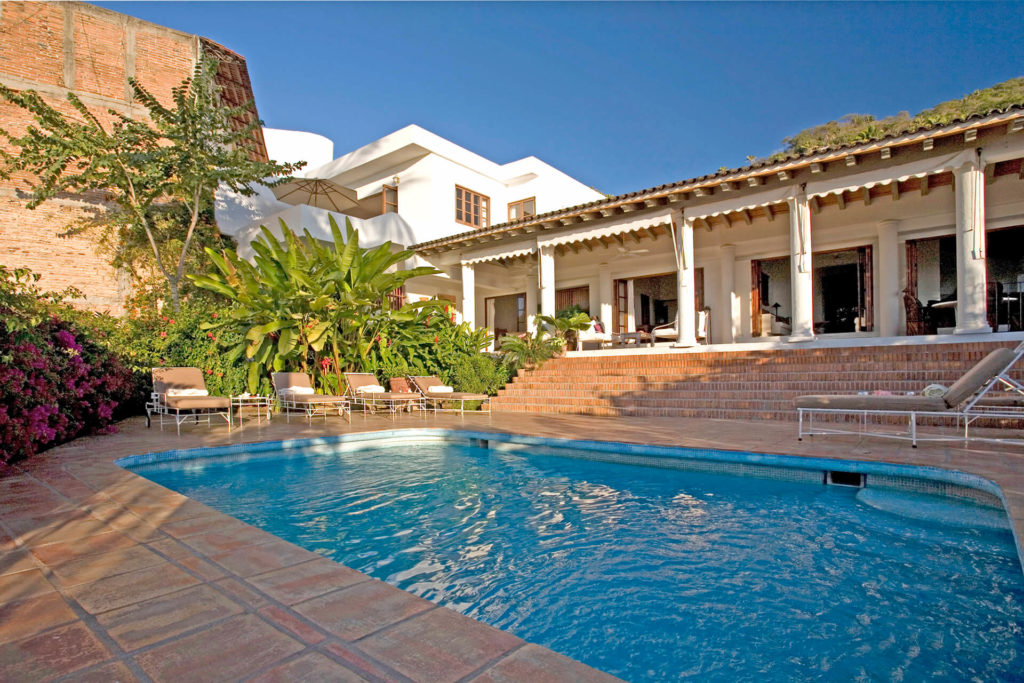 A stunning property named after the veranda and terrace overlooking the sea, Villa Veranda is one of the best examples of traditional Mexican architecture blending well with modern comforts. It has a great selection of both private and common spaces which can work well for families taking a vacation trip together.
2) Villa San Miguel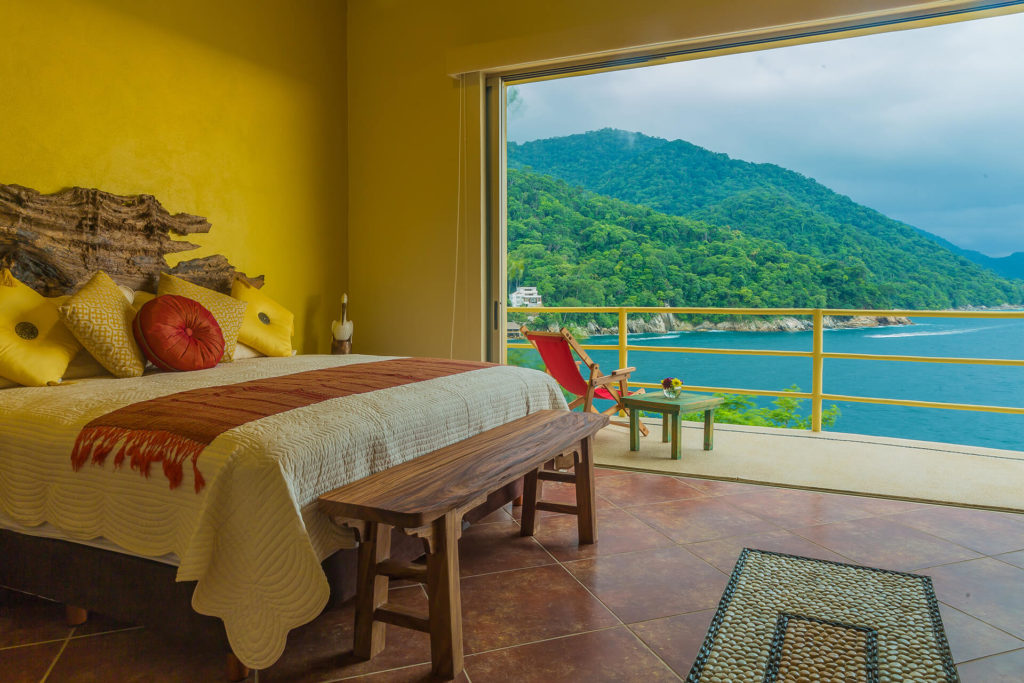 Solo travelers will find the cozy interiors and the in-house services at Villa San Miguel to their liking. Located on the cliffs overlooking the Bay of Banderas, this villa offers stunning panoramic views of the ocean, with access to the more secluded beaches in Puerto Vallarta. While you may need a water taxi to fully explore the surrounding area, the accommodations alone are enough of a treat for someone looking for some respite from the city.
3) Villa Los Arcos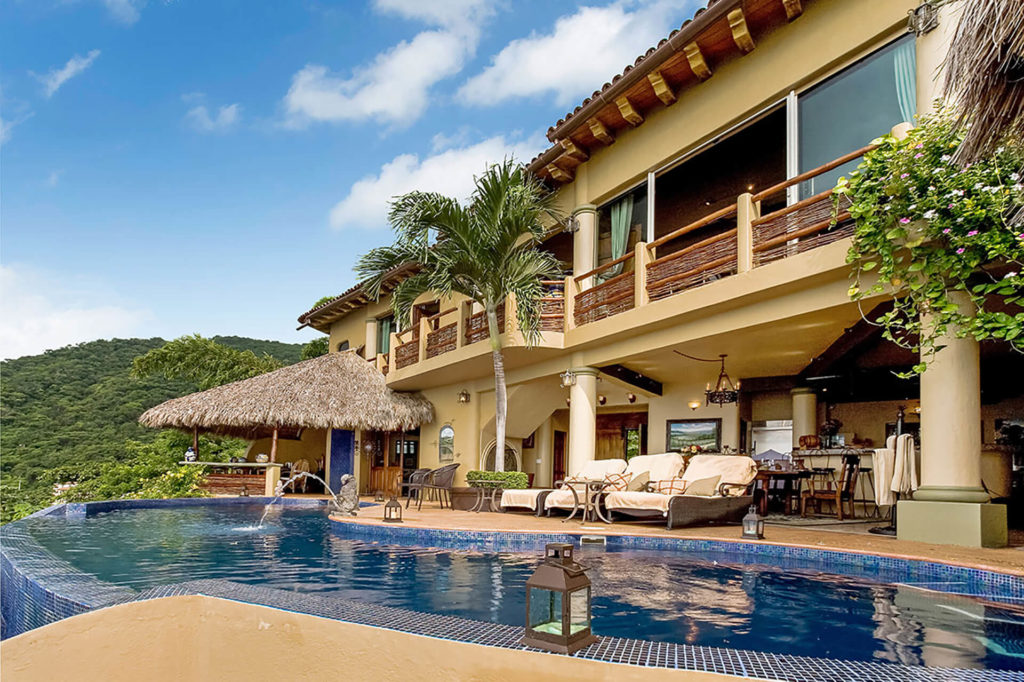 Designed for nature-lovers and large groups, Villa Los Arcos overlooks the wild side of Puerto Vallarta, specifically the Los Arcos Marine Preserve. While it's a bit off the beaten track and closer to the town of Mismaloya, this villa uses the distance away from the city center to cultivate a truly relaxing atmosphere. If you've ever wanted to wake up to birds near your window, this is the place to be.
4) Villa Celeste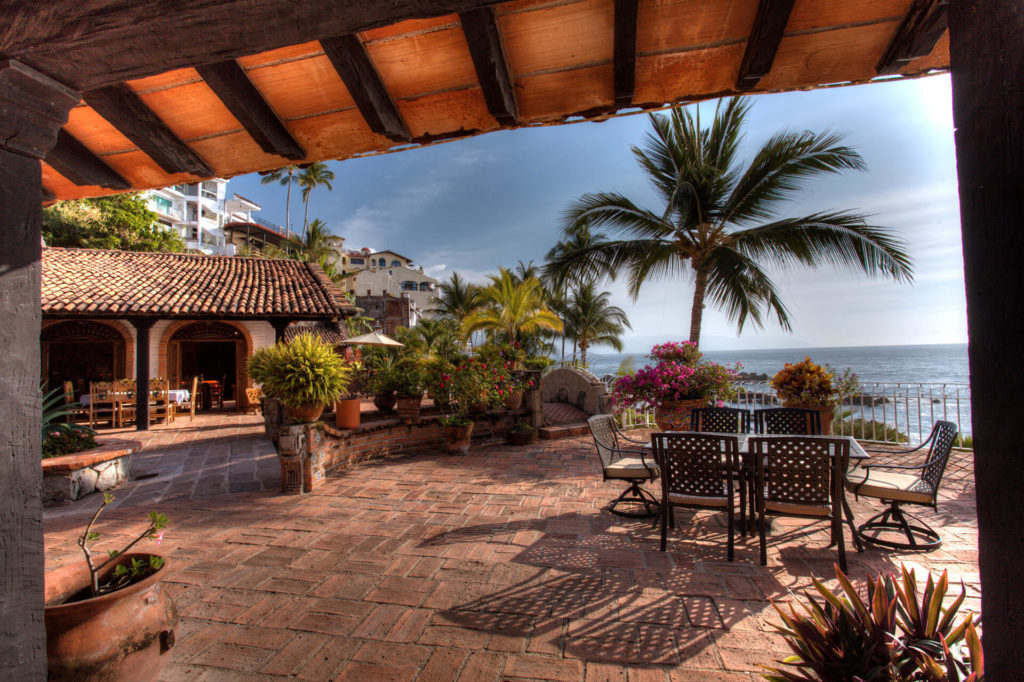 Puerto Vallarta's no stranger to events like weddings, reunions, and other social gatherings - and places like the Villa Celeste are the best place to hold them. A beachfront property on Playa Conchas Chinas, this 12,000 square foot villa has plenty of room for small social events with some to spare for guests that may need to spend the night or the weekend there.
5) Casa Velas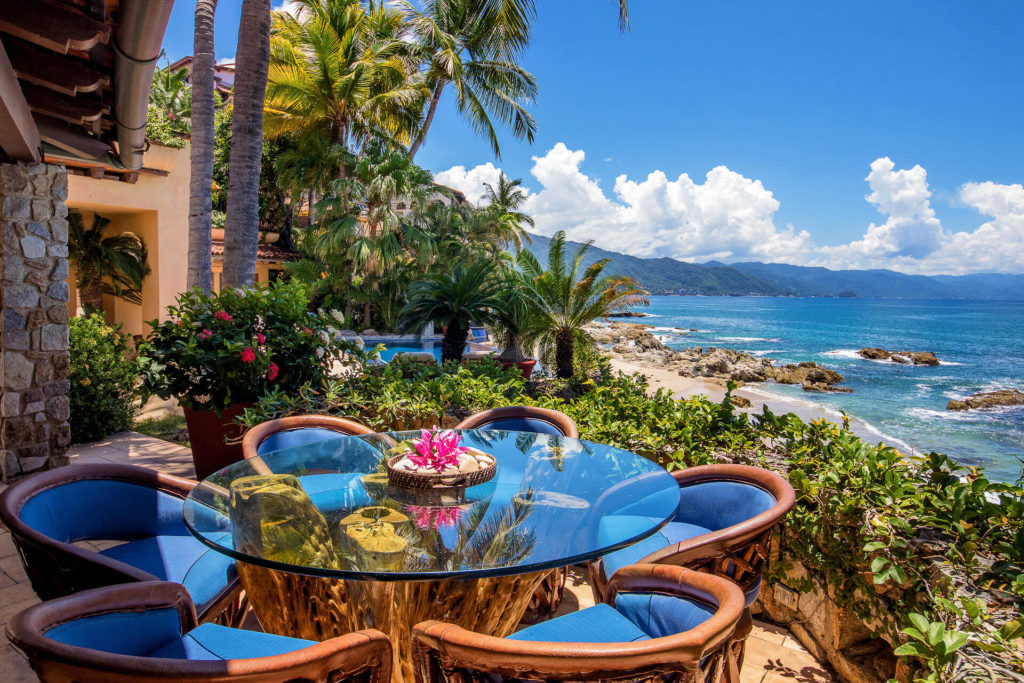 Casa Velas is a property that brilliantly brings together outside beauty with inside decor, making you feel like you've stepped into a Mediterranean retreat once you've settled inside. It's a beautiful beachfront property located minutes away from the Downtown Zone, giving you the perfect place to rest after a long night out on the town.
How Do You Get Around Puerto Vallarta?
Getting around Puerto Vallarta has been made extremely easy ever since the local government invested more in the infrastructure and roads of the city - but the primary issue here is that these developments aren't that consistent across town.
Some areas, like the Hotel Zone and Downtown, are easily accessible via public transport or taxis. Ubers are also fairly plentiful around these areas, so you don't really have to walk anywhere. Places like the Marina and the Romantic Zone are a little more crowded and may require a lot more walking, but they aren't completely inaccessible by vehicle.
If you're bringing or renting your own vehicle, make sure that your accommodation has parking space - or failing that, is nearby a pay parking lot. But even if you bring your own vehicle, Puerto Vallarta is really best experienced on foot, with many other hidden areas and attractions being only reachable via boat.
Book Your Accommodation In Puerto Vallarta City With Agave Villas Today
Choosing a neighborhood to settle in Puerto Vallarta can make a drastic difference in how you'll spend your days there, whether you choose to stay in a hotel suite or in one of the many resorts throughout the district. However, one thing you can rely on is that most (if not all) accommodation in Puerto Vallarta always has stunning views, great cuisine, and access to all the activities that may catch your fancy during your stay.
If you're looking for alternative accommodation options, the villas we've discussed above are just part of the many properties that Agave Villas can help you book today. We maintain an extensive network of different villas and accommodations, using our long experience with the local area to bring you the best choices at reasonable accommodation prices. With the help of our expert villa staff, travel agents, and other personnel, you can trust us to make your stay in Puerto Vallarta a comfortable and memorable experience.
For more information about how we can make your stay in Puerto Vallarta better, contact us through our website today.