Looking to book a villa for a family vacation in Puerto Vallarta? No problem! Browse our top 5 family-friendly villas in Puerto Vallarta, featuring amenities like private pools, hot tubs, sports fields, incredible electronic entertainment, and much more. Plan an unforgettable vacation for kids and adults alike!
Top 5 Family-Friendly Puerto Vallarta Villas
1. Casa Las Amapas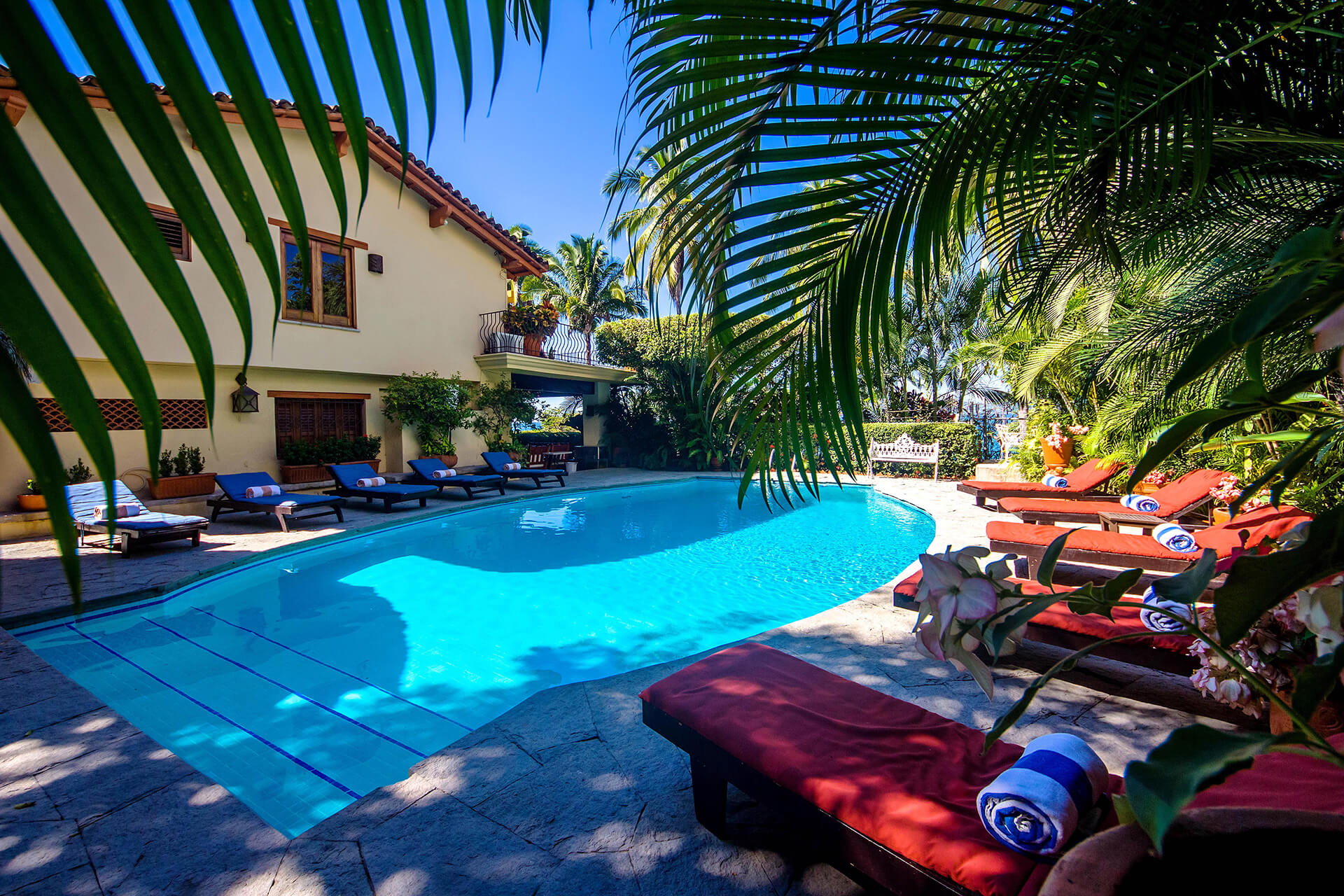 With the beautiful Playa Conchas Chinas just steps away, Casa Las Amapas offers breathtaking ocean views. The expansive pool area features ample space for lounging while the kids enjoy a refreshing dip! A large, bright kitchen space provides ample seating for everyone, and with 5 bedrooms and 6 bathrooms, there's room for the whole family. Wi-Fi and satellite TV guarantee that you'll never hear the dreaded cry of "I'm bored!"
Sand and surf are readily available at your doorstep, and downtown Puerto Vallarta is just five minutes away for shopping, dining, and family day trips to explore all the city has to offer.
2. Casa Cosmos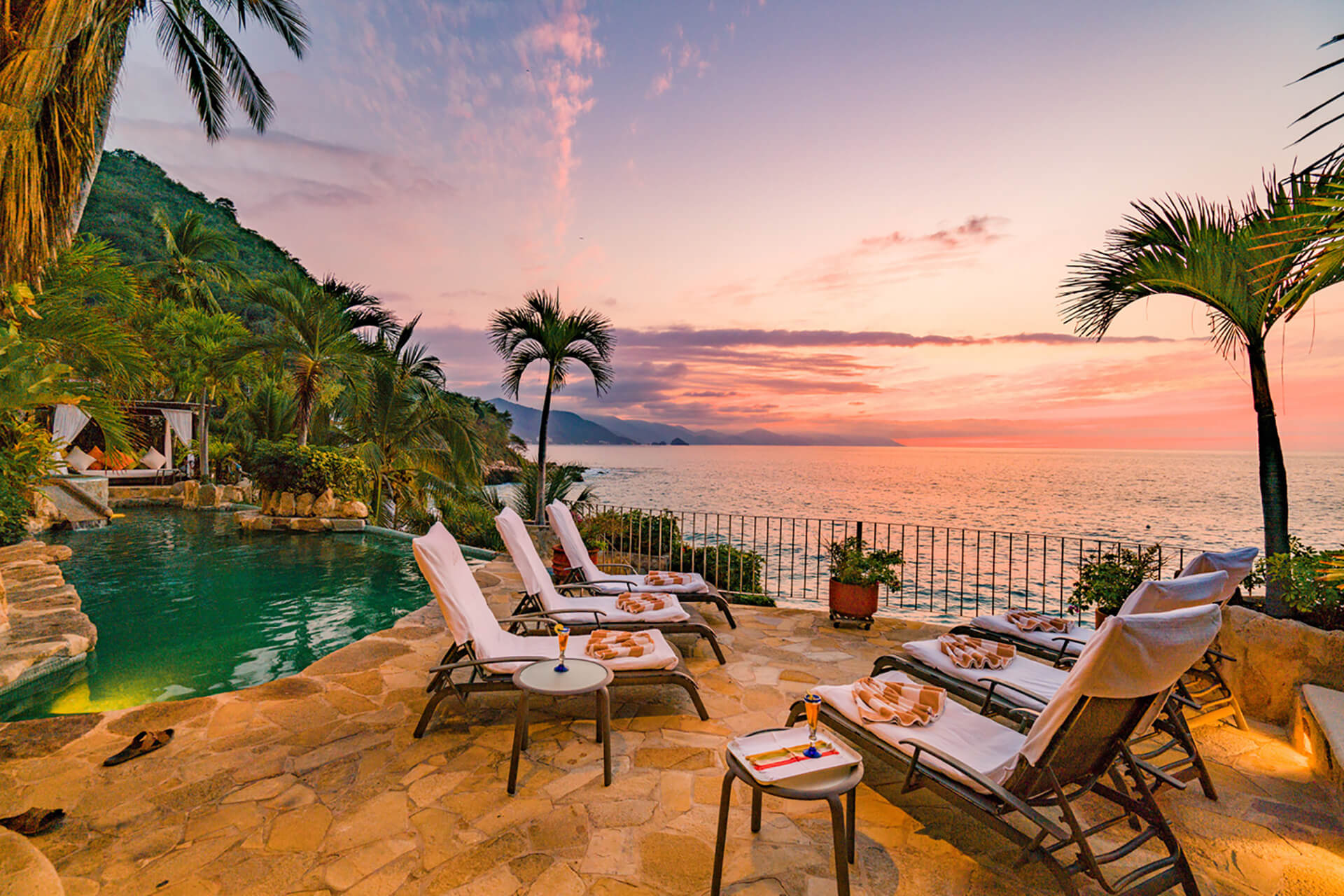 Located on a semi-private beach just minutes from downtown Puerto Vallarta, Casa Cosmos is a sprawling villa with amazing views of the ocean, carefully landscaped to showcase the beauty of its lovely palm trees and tropical vista. Featuring 7 bedrooms and bathrooms, it's the perfect place to bring the entire family, and its unique, lagoon-like pool and triple bunk beds are reminiscent of a Caribbean pirate cove to delight the kids. The adults will love the secluded plunge pool and exclusive beach lounge area for relaxation and ice-cold tropical cocktails.
With kayaks, hammocks, and a water slide, it's an exhilarating, family-friendly paradise you'll love!
3. Casa La Vista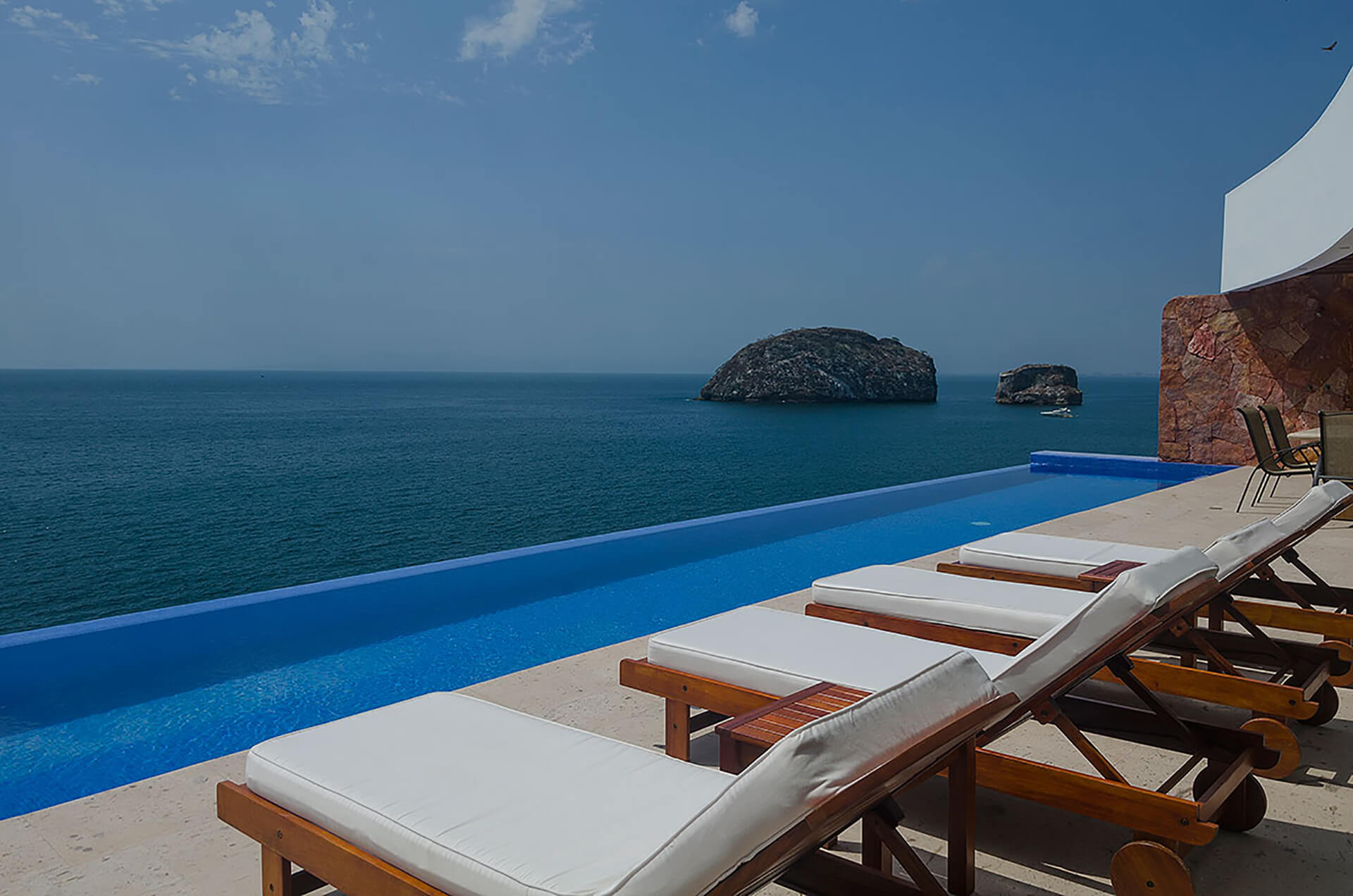 Allow Casa La Vista's majestic cliffside views and wide-open spaces to capture your heart as you enjoy its 3 heated pools, 2 Jacuzzis, and full-floor master suite. The whole family will adore the space afforded by its 7 bedrooms and 11 bathrooms, not to mention a spacious game room with a full pool table, foosball table, and Bose home theatre. With 4 stunning granite kitchens, it's the perfect place for several families to vacation together in paradise, and the villa is fully staffed with 3 delicious meals provided per day by your private chef.
Swim, relax, and play in this gorgeous mountainside villa as you enjoy stunning ocean views!
4. Villa Balboa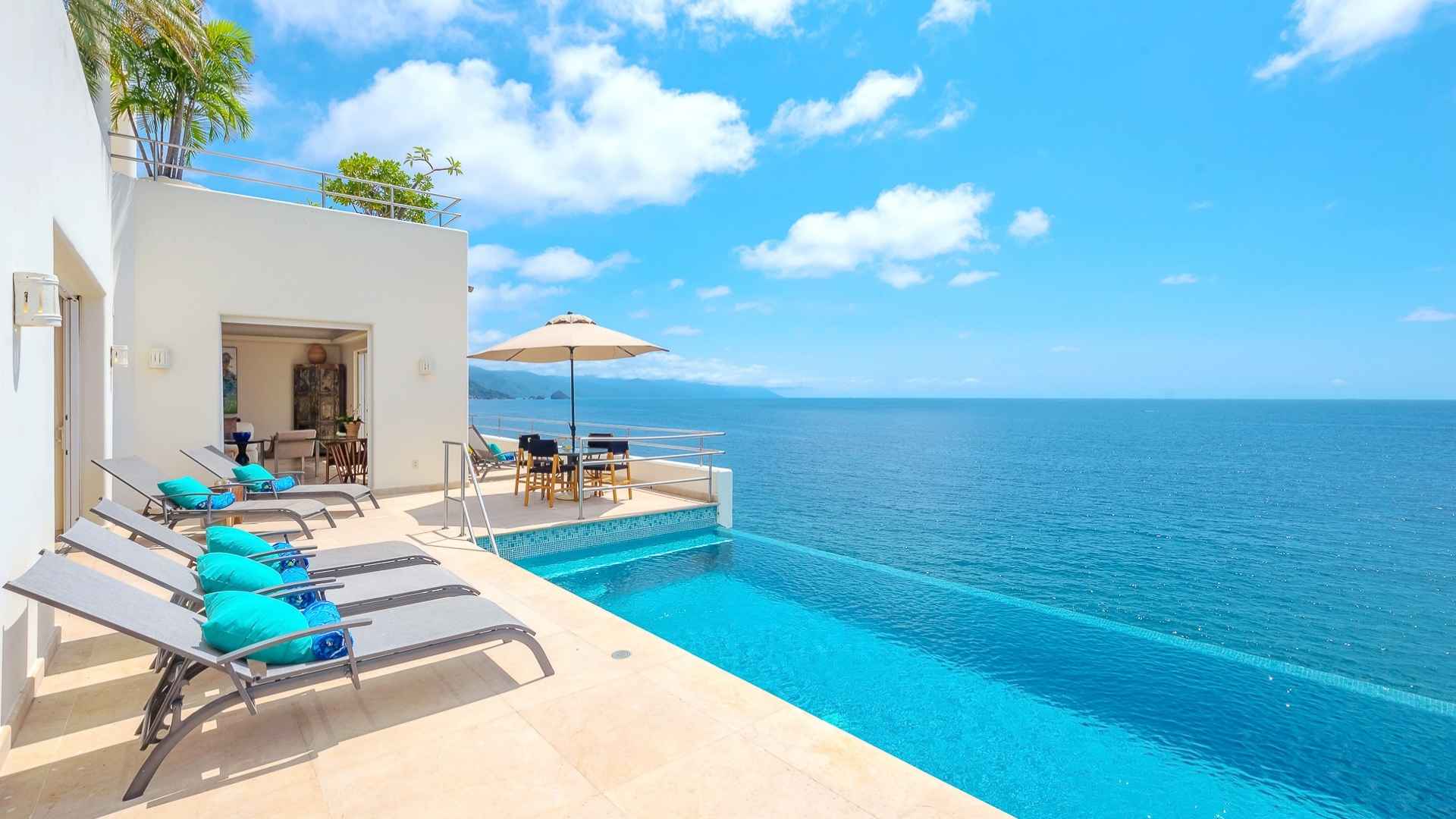 Villa Balboa gives a whole new meaning to the term "oceanfront" with its private patio and pool that back directly onto the ocean for amazing views and private swimming. This gorgeous property boasts 9 bedrooms and 10 bathrooms and is decorated beautifully with local Mexican art. You'll admire its bright, vivid colors that evoke the tropics, along with its picturesque Koi ponds and spectacular sunset views.
Keep the kids entertained and enjoy midnight movie nights with your own private cinema, complete with theatre seating, foosball table, private bar, and popcorn machine.
5. Playasola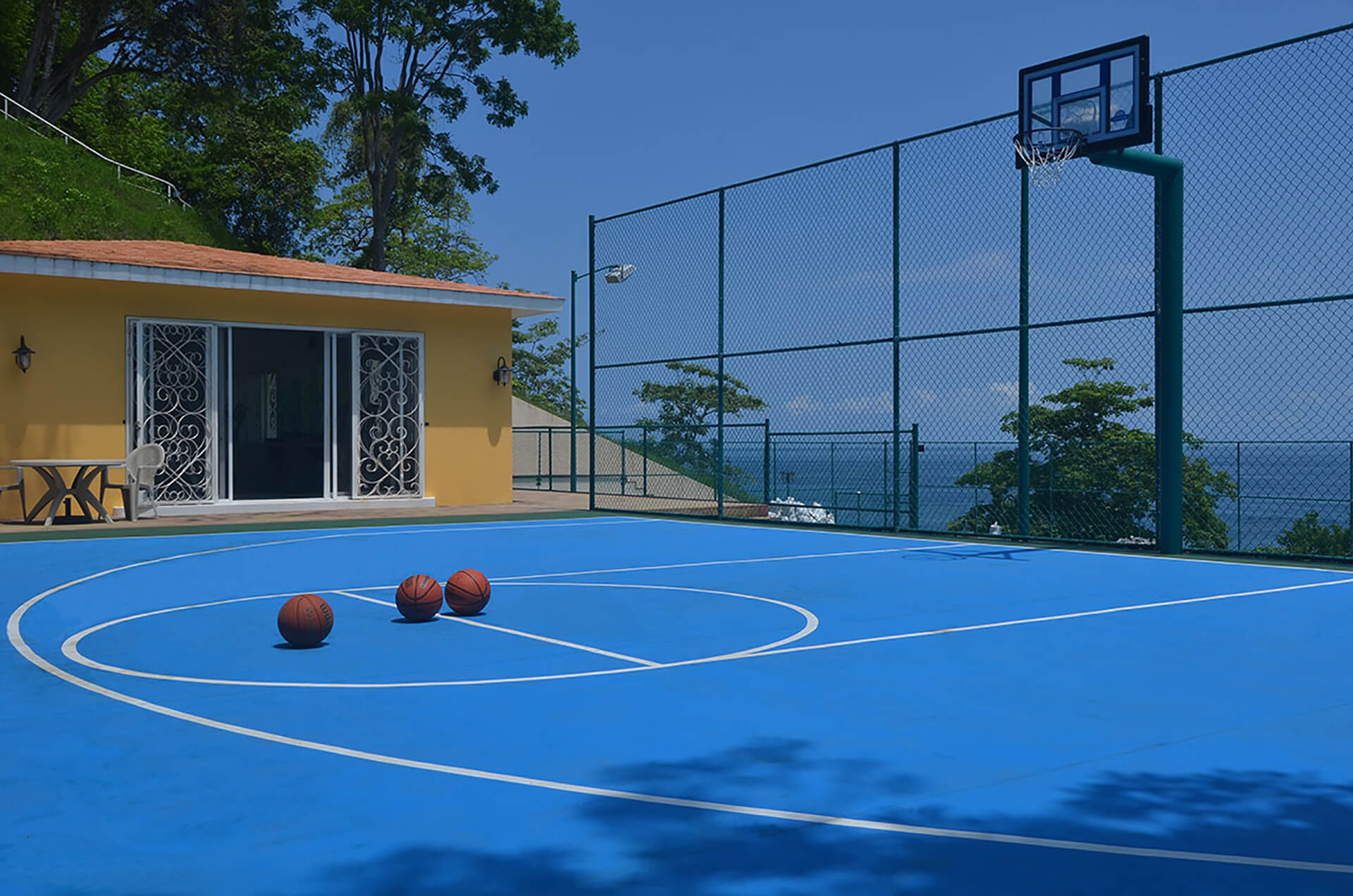 Looking for a secluded spot to enjoy with the family? Playasola is located on the coastline, 20 minutes south of Puerto Vallarta, and is only accessible by boat. It has direct access to a semi-private beach, private sports complex, and the villa is fully staffed for your enjoyment.
Kids will love the basketball, tennis, and volleyball courts, as well as the heated infinity pool. While they're busy having fun, the adults can relax under the beachfront palapa with a wet bar, lounge in the pool by the swim-up bar and take romantic walks on the beach. Its secluded location offers ultimate privacy, while its proximity to Puerto Vallarta allows you to still enjoy all the amenities of the city, with shopping and dining only a short trip away.
Vacation Fun for the Whole Family at Agave Villas
Private villa rentals in Puerto Vallarta allow you to customize your vacation to include exactly the amenities that you and your family will enjoy! There's no need to choose between kid-friendly resorts and adult-oriented hotels; your private villa will include everything they can and more, making them an excellent all-around choice for the entire family. Browse our listings today at Agave Villas or contact us to start planning your next family escape to the tropics!